Italo
Various – Italo Holiday Vol. 6 by Beach Club Records
After the start of the ITALO HOLIDAY series in 2012, here is already volume 6.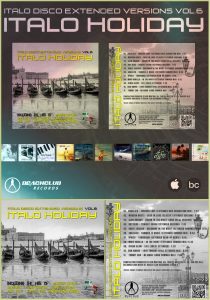 11 Brand  NEW GENERATION ITALO DISCO tracks,
01) Angelico – Forever Love (Extended New Generation Mix) 07:43
02) Modern Boots – Deep In Love (Classic Extended Version) 06:52
03) Alan Brando – Dream In The Night (Long Vocal Version) 05:23
04) Boy Blue – Tonight Again (Extended Version) 07:43
05) Boris Zhivago – Dreaming In The Night (Ext.Romance Mix) 06:51
06) Angelico – Summer Is Magic (Extended Summer Mix) 06:52
07) Ipnico – Tomorrow (Extended Blow Up Remix) 08:18
08) Miko Vanilla – In The Night (Extended Summer Mix) 05:32
09) Rynar Glow – Life (Vocal Extended) 07:35
10) Don Amore – Love Tonight (Full Extended Mix) 06:44
11) Tommy Sun – Mi Amor (Long Summer Mix) 07:06
 extended versions only for the first time on this compilation series.
Compilation produced by Ken Martina.
All tracks written by J.K. van der Bijl
Recorded and mixed at Beach Club Recording Studios.
Vocals by Ken Martina and Naomi Italo
Involved since 2014 Naomi Gaspersz (Naomi Italo) has been responsible for the voices of :
NAOMI, DIVA FIRAGO, ELISA ROVETTA and also some backing vocals.
More info: beachclub-records.com
Mirela
December 11th, 2016
No comments