Italo
HYPNOSIS- Greatest Hits & Remixes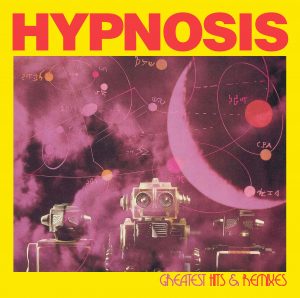 HYPNOSIS was founded at the beginning of the 1980s by Stefano Cundari (Koto). He also had the idea to produce a cover version of "Pulstar" by Vangelis.
The title made it to the top 10 of the charts in Germany.
In Austria and Switzerland, "Pulstar" reached the top 20. The 2nd single "Oxygene" made it into the top 40 in Germany.
On two CDs "Greatest Hits & Remixes" offers all the hits and many extended versions and remixes by HYPNOSIS.
   Disc 1
01. Oxygene (7″Version)3:47
02. Pulstar (7″Version)3:56
03. End Title (Blade Runner)(7″Version)3:40
04. Astrodance (Album Version)4:07
05. Argonauts (Album Version) 4:44
06. Droid (7″Version)3:12
07. Automatic Piano (7″Version)3:28
08. Space Crusaders (Album Version)4:11
09. Lost Memories (Album Version)5:55
10. Windland (Album Version)4:48
11. Vocoder Dream (Album Version)5:08
12. Bang, Bang, Boogie (Extended Version)6:40
13. Jungle City (Extended Version)5:00
14. Bormaz (7″Version)3:39
Disc 2
01. Pulstar (Disco Mix)8:15
02. Droid (Extended Swedish Remix)8:25
03. Automatic Piano (Maxi Version)5:05
04. Oxygene (Maxi Version)8:15
05. Astrodance (Computer Remix)6:26
06. Lost In Space (Remix)8:45
07. End Title (Blade Runner-Maxi Version)7:10
08. Argonauts (Tribal Remix)6:11
09. Droid (Maxi Version)5:45
10. Bormaz (Maxi Version) 8:45
11. Pulstar (Maxi Version)5:51
Enjoy a journey through time straight into the era of Spacesynth of the 80s!
Mirela
October 9th, 2016
No comments