Italo
V.A. ZYX Italo Disco New Generation Vol. 9
The Italo Disco New Generation hype continues.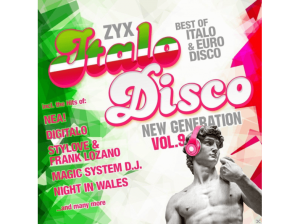 On September 2, 2016 released the 9th edition of the 2CD compilation series ZYX Italo Disco New Generation.
This compilation contain 24 Italo Disco  title with extended versions of current and newly produced tracks.
In addition to some producers and artists who accompany us since the first edition, many creative newcomers are also represented.
Enjoy tracks by Steve Bourbon Project feat. Mirko Hirsch, Stylove & Frank Lozano, Etolie Vipe, Rick De Moore, NEA!, Digitalo and many more.
Tracklisting:
CD 1:
Steve Burbon Project Feat. Mirko Hirsch – The Vibe (Extended Version)
Stylove & Frank Lozano – Story Of My Life
D. White Feat. K. Lelyukhin – Generous Love (ZYX Extended Version)
Chito – One More Chance (Extended Version)
Magic System D.J. – In Your Eyes (Extended Version)
Cristina Manzano – Paradise
Etolie Vipe – Better Than You (Michael Nolen Maxi Mix)
Tom Garrow – Dance For Me (Maxi Version)
Talking Eyes Feat. Stylove – Computerized Love (Extended Version)
Rick De Moore – She's My Lady (Extended Version)
Night In Wales – Your Are My Reason (Extended Version)
Nea! – Puppet In The Box (Maxi Version)
CD 2:
Digitalo – Russian Man (ZYX Extended Version)
Vanello & Steven Kimber – The King Of The Summer (ZYX 2016 Mix)
Vincent International – You're My Love (You're My Life) (Maxi Mix)
Synthgo – Buona Sera (Extended Mix)
Galera Feat. Josephine Sweett – Sometimes
Nation In Blue – I Want You
Peter Wilson – I Don't Wanna See You Cry (Matt Pop Album Mix)
Giuseppe Alicata – Parla Con Me (Extended Version)
Birizdo I Am – Keep The 80s Alive (Extended Version)
Limelight – Remember My Love (Extended Version)
Brian Krause – This Love Is Forever (ZYX Special Mix)
Nick Festari – Web Kills The Radio (Fixed Mix)
Furthermore you can already be looking forward to the anniversary edition of ZYX Italo Disco New Generation which will be released in spring 2017.
Mirela
September 11th, 2016
No comments