Italo
VA: ZYX Italo Disco Boot Mix Vol. 1
The legendary Italo Boot Mix is back!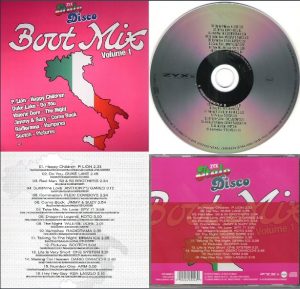 ZYX Italo Disco Boot Mix Vol. 1 is linked to the great days of the cult series.
First, there are the two mixes as CD and later be released the boot mixes on LP for all vinyl lovers.
On Vol. 1 you will enjoy to listen to legends like P. Lion, Duke Lake, Koto, Valerie Dore, Radiorama and more.
Mix 1
1) P Lion – Happy Children (2:31)
2) Duke Lake – Do You (2:45)
3) 50 & 50 Brothers – Red Man (2:35)
4) Anthony's Games – Sunshine Love (3:12)
5) Flexi Cowboys – Domination (2:24)
6) Jimmy & Suzy – Come Back (2:54)
7) Spy 71 – Take Me…Mr Love (3:59)
8) Koto – Dragon's Legend (2:59)
Mix 2
1) Valerie Dore – The Night (2:59)
2) Radiorama – Vampires (2:35)
3) Brian Ice – Talking To The Night (2:25)
4) Scotch – Pictures (3:02)
5) One System – Life Is Very Short (3:21)
6) Dario Diviacchi – Waiting For Heaven (2:48)
7) Arm – Number One (3:09)
8) Ken Laszlo – Hey Hey Guy (3:18)
Copyright  – ZYX Music
Mirela
August 21st, 2016
No comments