Italo
VA ZYX Italo Disco New Generation Vol. 8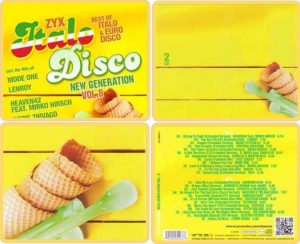 ZYX Italo Disco New Generation has established itself as the compilation for current Italo Disco title with  24 current and newly produced tracks for all lovers of modern Italo disco music.
The jump in quality of the individual titles and productions of Vol. 1 to the current issue is terrific.
More, more, better titles offered us for the successful compilation series.
Also 2016 performers and producers from many countries here and miss the sampler an international sound.
01  Heaven42 feat. Mirko Hirsch – Strong To Fight (Extended Version)* 06:14
02  Lenroy – You Are The Girl (Extended Edit)  07:10
03  Magic System DJ – Angels (Extended Version) 06:30
04  Cristina Manzano – Only Dreams (Extended Edit) 07:02
05  Mirko Hirsch – The Power Of Desire (Extended Version)** 06:22
06  D. White feat. Soulya ID – Is Not The Rain (ZYX Extended Version) 06:44
07  Vanello & Martin Blix – Vagabondo (Album Version) 04:44
08  Lost Legacy – Lycan (Fullmoon Mix) 07:22
09  Mode One – I Wanna Feel You (Extended Version) 07:24
10  Boris Zhivago – Love Is A Memory Away (Long Love Mix) 07:55
11  Amaya – To The Top (Long Italo Mix)*** 05:23
12  NEA – Dorian Gray (Extended Version) 06:38
*  Co-producer, electric guitar, lyrics , vocals by Mirko Hirsch
Composed , producer, lyrics, music, arranged, engineer by TDHDriver
Engineer by Anton Orlov
Vocals by Irina Bez
**  Composed , arranged, lyrics ,vocals by Mirko Hirsch
***  Composed by Amaia Uriz, Joan San Miguel Moragas
Mastered by Marcel Sabater
Synthesizer by Joan San Miguel Moragas
01  Diamond Rain – Take My Love (Extended Version)* 08:14
02  Romantic Avenue feat. Quino – Drama(Maxi Version)** 05:49
03  Synthya & Heaven42 – Just Tonight (Extended Version)*** 07:22
04  Malcom & The Bad Girls – No Heaven For The Bad Girls (Vocal Version) 07:01
05  Siberian Heat – Irresistible (Special ZYX Version) 07:47
06  Kristian Conde – It's A Dream (Michael Nolen Maxi Mix)**** 06:47
07  Estimado – Here I Am (Extended Version)***** 06:03
08  Digitalo – Never Say Never (ZYX Extended Version) 06:25
09  Peter Wilson – The Game Of Love (Extended Dub) 06:12
10  The Crosslines – I Can Feel Your Body (In The Night)(Maxi Version)****** 06:38
11  Electro Potato – Disconight (Special ZYX Version) 06:09
12  Cyber Space – Future On Mars  04:58
*  Composed by Gennadi Masalov
Producer, lyrics, music, backing vocals, arranged by TDHDriver
Vocals by Darya
**  Arranged, mixed by TDHDriver
Composed, arranged, lyrics, music by Silviu Haloiu
Vocals by Quino
***  Arranged, mixed, producer by Waldemar Żywica
Composed, music, lyrics, vocals by TDHDriver
Vocals by Irina Bez
****  Arranged by Michael Nolen
Mixed by Michael Nolen, ROST
*****  Composed , lyrics , music by Sergey Troshchenkov
******  Backing vocals by Michael Nolen
Lyrics, mixed, backing vocals, co-producer by TDHDriver
Music, lyrics, arranged, mixed, producer by Anton Orlov
Vocals by Fabricator
Mirela
June 19th, 2016
No comments