News
29-10 Italo Halloween Party with Ken Laszlo!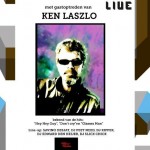 Summer is barely over and the next Italo party has already been planned!  On the 29th of October KEN LASZLO will be performing at 330Live in The Hague, Netherlands. Of course this is not to be missed and you can buy tickets via the website www.330live.nl.  There is a limited amount of tickets available so make sure you don't miss out! Besides the main act there will some great DJ's like Peet Neet and Savino spinning  throughout the night.
Hope to see you all there!
Ivy
October 15th, 2011
No comments