Italo
VA ZYX Italo Disco New Generation 7 inch Collection
ZYX Italo Disco New Generation for the first time with radio versions only !
ZYX Italo Disco New Generation 7 contains 40 hits of the last years!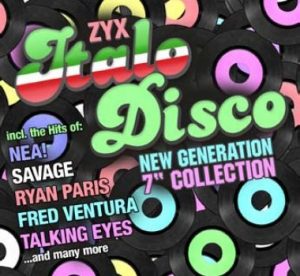 In this compilation is present the "Who's Who of the
New Generation" scene like: Mirko Hirsch, NEA !,
Italove, Lost Legacy, TQ, Stylove, Estimado,
Vanello & Martin Blix, and more !
In addition, enjoy also current tracks in new
generation style by Italo Disco heroes from the 80s
like: Fred Ventura, Ryan Paris, Linda Jo Rizzo, Savage.
Disc 1
 1. D. White Feat. Soulya ID  – Devil's Plan 3:54
Producer – M. Nolen
 2. Dario Silver – Back Tonight 3:37
Producer – Mirko Hirsch
3. Savage – Save Me 4:12
4. NEA! – Puppy Love (Do You Remember) 4:52
Producer – Master Of Dreams
 5. Ryan Paris Feat. Vale – Sensation Of Love 3:59
Producer – Eddie Mi Ami, Ryan Paris
 6. Italove – We Don't Care (Retro Remix) 3:54
Producer – Mirko Hirsch
 7. Fred Ventura  – Believe Me 3:46
Producer – Kimmo Salo, Laurent Gelmetti
 8. Heaven42 Feat. Mirko Hirsch  – Strong To Fight 4:13
Producer – Alexander Bez
 9. Talking Eyes – In The Sun 4:12
10. Mirko Hirsch – Take Me 4:32
11. Digitalo – Never Say Never 3:40
12. Stylove – Night Girl 3:26
13. Diamond Rain  – Leave It For Tonight 4:52
Producer – Alexander Bez, Gennadi Masalov
14. Cyber Space – Give It To Me 3:32
15. Chito – One More Chance 3:43
Producer – M. Nolen
16. Lost Legacy – Lycan 4:33
Producer – Kimmo Salo
17. Lenroy – Give Me A Night 3:58
18. Moderno – Be My Disco Beat 2:48
Producer – Andrew Bernhard
19. Avenue  Feat. Tony Costa & Raul Olivares – The Story Of Love 4:20
20. Magic System D.J. – Frozen Hearts 3:04
Producer – Kimmo Salo
Disc 2

1. Night In Wales – Dancing 4:21
2. Soulya ID – Vampirella's Song 3:55
3. Andy Romano Run To Love 3:24
Producer – Kimmo Salo
4. TQ – Let's Go To Tokyo 4:19
Producer – Mirko Hirsch
5. Vanello & Martin Blix – Vagabondo 4:44
Producer – Razvan Dumitru Voicu
6. Alan Brando – Open Your Heart (Last Remix) 4:24
Producer – Ken Martina
7. Estimado – Hidden Love (Special ZYX 7″ Version) 4:34
8. Italian Party – Look Into Your Eyes 3:40
Producer – Ken Martina
9. Synthya & Heaven42 -Just Tonight 3:47
Producer – Alexander Bez, Waldemar Zywica
10. Galera Feat. Josephine – Sweett Sometimes (Tony Costa Remix) 3:39
Remix – Tony Costa
11. Linda Jo Rizzo  – Fingertips 4:32
Producer – Marek Kolodynski, Mirko Hirsch
12. Iris – Come With Me 3:09
13. Nikita Fomin My Paradise – Your Hell 4:06
Producer – Michael Nolen
14. Modern Boots  – Deep In Love (Galaxy Radio Version) 4:17
Producer – Ken Martina
15. Nation In Blue – Love Is Love It Love Can 3:59
16. Birizdo I Am  – Dove Vai 3:37
Producer – Lajos Birizdo
17. Casarano -Butterfly 4:11
Producer – Ken Martina
18. Vincenzo Salvia Feat. Abobo – Lungomare 3:53
19. Mevo – Heart To Heart 3:40
Producer – Mirko Hirsch, Ove Melaa
20. 23rd Underpass – I Will Make You Believe 4:00
Released: 25 Nov 2016 | ZYXMusic.com
Save
Mirela
December 18th, 2016
No comments