Italo
MarcelDeVan feat. Anna Jones – In My Dreams(Maxi Single)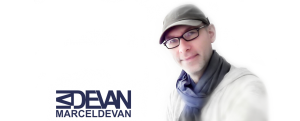 MarcelDeVan is a composer, arranger, producer
and remixer with best music of Dream & Synthesizer
Dance for more than 20 years from Germany.
He prescribed to the sound of the 80's, along the lines
of KOTO, Laserdance and many other artists from
this time.
At the beginning it was only a hobby for
MarcelDeVan to playing keyboard and drums.
Over the course of time more and more clubs were enquiring about him – it was time to make the jump.
His first official MarcelDeVan song was introduced to many hit lists. Since then synth dance music by MarcelDeVan was increasingly popular in the world.
Marcel also produces for other bands or musicians and also Jingles for radio stations & Background Music for Image Films.
It's Magic(Album) / February 28,2014
High Energy(Maxi Single) / October 31,2014
Around of Life(Maxi Single) / November 18,2014
Special Edition 2014 / December 16,2014
Space Station (Maxi Single) /February 27,2015
Land Of Fantasy (Maxi Single) / February 27,2015
It's More (Maxi Single) /April 10,2015
The Boot Mix V/May 8,2015
Just The Way You Are EP/ July 24,2015
The Boot Mix VI /September 4,2015
The Time In The Elements(Maxi Single) / December 18,2015
SONAR Power (a Project from MarcelDeVan & CyberSpace) Christmas Dream(Single)/ December 18,2015
The Boot Mix VII /January 29,2016
Christian Anders – Alle Optionen Offen Hope12(MarcelDeVan Remix) / May 1,2016
System2Project-Sterne der Nacht(Maxi Single) /August 17, 2016
Nicole Sander-Zug der Sehnsucht(MarcelDeVan Maxi-Remix) / October 10,2016
MarcelDeVan feat.Anna Jones-In My Dreams(Maxi Single) / October 10,2016
MarcelDeVan feat.Anna Jones-In My Dreams(RadioEdit)
MarcelDeVan feat.Anna Jones-In My Dreams(FreshEdit)
MarcelDeVan feat.Anna Jones-In My Dreams(DanceEdit)
MarcelDeVan feat.Anna Jones-In My Dreams(DreamEdit)
Composed, Arranged, Effects by MarcelDeVan
Programing, Rhythm computers, Synthesizers, Percussionby MarcelDeVan
Lyrics & Vocal  by Anna Jones
Vocoder Vocal by MarcelDeVan
MiDi Programing by MarcelDeVan
Sound Director – Studio Equipment MarcelDeVan
Mixed and produced by MarcelDeVan
Co – Producer by Anna Jones
Mastered by: MarcelDeVan
a marcel de van studioproduction – Europe 2016
MDV & FoxDogMusic
The work at another project brought MarcelDeVan and Anna Jones together few month ago. Out of a creative mood Anna sang a tune on one of Marcel's older instrumentals. And suddenly the new song "In my dreams" was born. Too good for disappearing in a drawer. "We don't have any bigger plans or expectations concerning our featuring. We just had fun to make something together and now we are curious about how people will react on it."
Anna Jones is a musical all-rounder. Few years ago she left stage for being in the studio to write and produce more intensively for other artists. With her own label Foxdog Music she is supporting and promoting hopeful talents, mainly in the division of pop and German folk.
Marcel's Fans are always delighted and find something in his music.
Music is his talent and vocation – his music wants to touch your heart and your soul.
Mirela
November 20th, 2016
No comments