Italo
P.Lion – Springtime (Deluxe Edition)
In 1984 P. Lion released his successful album "Springtime".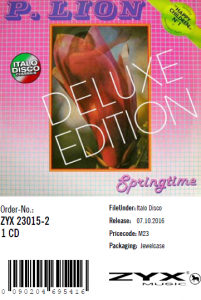 His song "Happy Children" is still one of the biggest hits
of the Italo disco scene ever.
This Deluxe Edition includes the complete album, the radio
versions of his big hits "Happy Children" and "Dream".
In addition, you get two wicked mixes of "Happy Children"
and the instrumental version of "Dream".
Tracklist
P. LION – DREAM
P. LION – SPRINGTIME
P. LION – SWEET CHILDREN
P. LION – HAPPY CHILDREN
P. LION – REGGAE RADIO
P. LION – KINGS OF THE NIGHT
P. LION – A SONG FOR YOU
P. LION – RUBBER GAME
P. LION – HAPPY CHILDREN (7" Version)
P. LION – DREAM (7" Version)
P. LION – HAPPY CHILDREN [88 Remix (Power Mix)]
P. LION – DREAM (Instrumental Version)
P. LION – HAPPY CHILDREN (Digital Remix)
Mirela
November 6th, 2016
No comments