News
29-04 – Double Mix Time In Ivy's Music Secrets!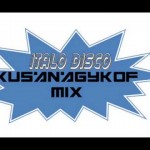 Hi all,
Not one but two mixes in Secrets! The first one is a 50 minute mix made by someone called Kusanagykof. I ran into this mix and was pleasantly surprised. It is all based on relatively new Italo. Great that there are so many bands who keep producing new Italo songs and keep it all alive!
The second one is a 30 minute Space Synth mix by  Patrick Dj's – Technology. Every Space Lover knows him of course!
So….Sit back and enjoy both mixes!  Greetz, IVY 🙂
Tracklist Kusanagykof mix:
1 Antilles – Friendly Fire
2 Vision Talk – Wave My Last Goodbye (spacesound version)
3 Space Project – Give To Me
4 Magic Studio – Heavens Song
5 Vision Talk – Into Your Minds
6 D.J. Savage – Whithout You
7 Tobias Bernstrup – Tekno Boys
8 Pulse 80 & Galspace Project – Journey To The Future City
9 Project A – Self Control
10 Moderno – Be My Disco Beat
11 ItaLove feat. Ken Laszlo – Disco Queen (Moderno Remix)
12 Mirko Hirsch – Analog Dream
13 Magic Studios – Romantic Stars
14 Space Project – Keep On Music (Space Remix)
15 Discowave – Dont Stop The Music (Italo Disco 2014)
16 Zara Taylor & Dj Skarley – Try To Be Love
17 Victor Ark feat. Amba Shepherd – I'll Be Gone In A Flash (Italo Disco Mix)
18 Syrian – Runner In The Night
Ivy
April 28th, 2014
2 comments